Plymouth's Best Landscaping Contractor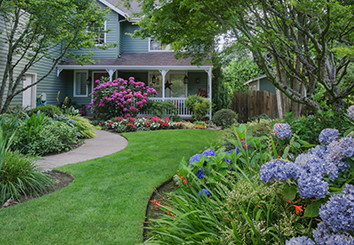 Squeals Landscaping provides professional landscape design, construction, installation and renovations services in Plymouth and surrounding areas. Squeals Landscaping Inc. has been Metro Detroit's go-to landscapers for over 25 years. With our pristine reputation and eye for detail, it's not hard to see why! We are all very committed to our craft, and this is reflected in each and every job we complete.
We offer many services to our clients, including (but not limited to) landscaping new homes, new construction properties, major landscaping renovations, pool landscaping, lakefront/waterfront landscaping, large commercial city municipality developments, brick paving, retaining walls, design, installation, planting large trees, shrubs, sod, bushes and more. Our experienced team is highly trained and shares a passion for creating beautiful and artistic outdoor spaces for each of our clients.
Our Design Team Gets Creative with You in Mind
The Brains of Squeals Develops Original and Unique Ideas
Our in-house design team has unique ideas that are functional and economical. The design staff consisting of our draftsman, designer and landscape architect work directly with our sales staff to create a plan that is perfect for your property.
The Muscles of Squeals Are Keen On Detail
Our installers work under the direct supervision of the project manager. They are trained to pay close attention to specific details on the job. Squeals creates amazing landscapes that are a true work of art. You will not have to take time out of your busy schedule to worry about your landscaping; your home investment will grow and your new landscaping will be enjoyed for decades.
Plymouth's Leader in Residential and Commercial Landscaping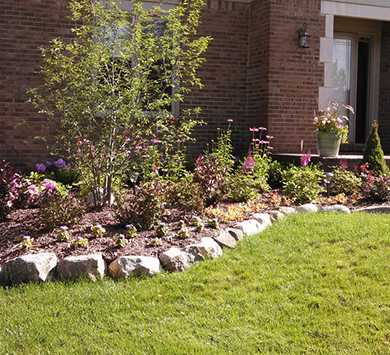 Though we often call ourselves designers, Squeals Landscaping does not actually come up with the designs. Rather, we visit your property, listen to all of your ideas, and develop a plan to put the designs you have envisioned into practice. Our goal is to give life to your creative impulses, not to impose our own landscaping ideas on you.
We pride ourselves in our full service services, including irrigation, brick paving, final grading, retaining walls, low voltage lighting and sod. When you meet with a salesman we can review our portfolio for design ideas or just take a drive through the area. We have hundreds of new home landscapes within a few mile radius of our office.
Squeals Landscaping is experienced in all aspects of landscape design, including:
Home Enhancements -

The Squeals team is proud to help new homeowners make their mark on their first abode. We also work with more established residents, allowing them to give an existing property new life.

Waterfront Work -

Squeals Landscaping has worked on lakefront properties, pools and an array of other watery environments. We add beauty without disrupting the natural aquatic ecosystem.

Poolside Landscaping -

We provide exceptional plant design around your swimming pool, creating a unique atmosphere that you and your guests are sure to love.
Customer Reviews:
"Really great service. One thing to consider is if your contractor meets his commitments. This company does. They specialize in difficult stone work and tree planting. You can be confident that these people keep their word and commitments. So many landscape outfits give guarantees they cannot keep. This company is one you can rely on." Ed G.
"I wanted to take this opportunity to thank you and your entire staff for the outstanding job you did in landscaping our home. Your professionalism, horticultural knowledge and follow up was key to completing the project on a timely basis, along with assisting us in working through the numerous final grading problems with our builder. Please feel free to use either Lynn or myself as a reference for any of your future customers." John E. C. Ford
---
To request a free estimate or learn more about our services, contact Squeals Landscaping at (248) 360-7000 today.